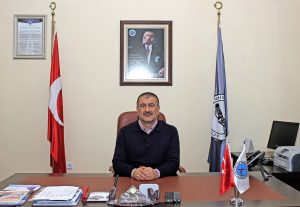 Dear Friends,
Our faculty was established in 2001 and started education in 2001-2002 academic year. Education activities in our faculty continue with a total of 46 academicians (15 faculty members, 19 lecturers, 12 research assistants), 920 students and 12 administrative staff as of the academic year 2020-2021.
In our Faculty, where art education is currently undergraduate in 5 departments (Traditional Turkish Arts, Interior Architecture and Environmental Design, Painting, Ceramics, Cinema and Television), our master's program called "Art and Design" continues its activities under the roof of the Social Sciences Institute of our University.
Our faculty members, who are sensitive to national and international developments in their fields, using the developing and rapidly adding education and training technologies, share their knowledge and skills with our students first; During their art education, where one-to-one communication is important, they take care to be able to communicate effectively with you and endeavor to train each of you in a versatile way.
Our faculty carries out efforts to use all the necessary resources in the most efficient way in preparing them for life by providing an environment where all students can call this "our second home". In this respect, we want you to continue your education life in a specific coordination, without any disruptions and most importantly, in a more planned way.
We are aware that the years you will spend at our university are important for the future of both you and our country, and as the administration of our faculty, we endeavor to offer all kinds of opportunities that will contribute to your development. I hope that you will contribute to this effort of us by completing your education and training with the same effort and responsibility, and I sincerely greet you all.
Prof. Dr. Selçuk AKÇAY / Dean